Set of ball-on-plate friction pair (GOST 12156-1)
LLC "TechProm" offers to buy a set of ball-on-plate friction pairs our production, used in manufacturing equipment from HFRR, PCS Instruments, Phoenix Tribology and some others. The set of ball-on-plate friction pair is a universal design developed within the framework of all modern Russian and international standards, which is confirmed by a number of certificates.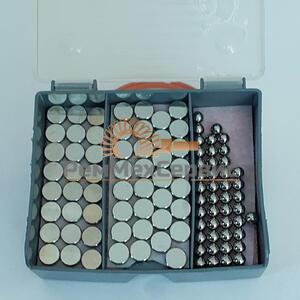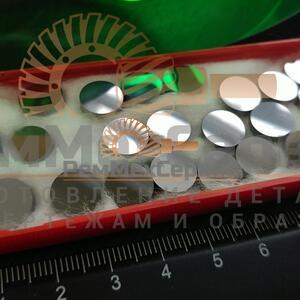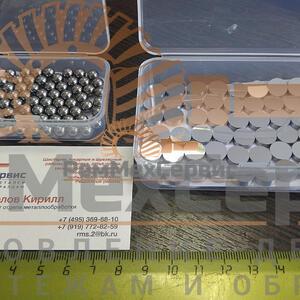 Test plates by GOST 12156-1
| | |
| --- | --- |
| Diameter: | 10mm |
| Steel: | AISI E-52100, hardened steel rod |
| Hardness: | according to Vickers "HV 30" from 190 to 210 (ISO 6507) |
| Surface: | polished to a value of Ra <0.02 micron (μm) |
Test balls by GOST 12156-1
| | |
| --- | --- |
| Diameter: | 6mm |
| Steel: | Grades 28 according to AISI E-52100 |
| Hardness: | Rockwell 58 to 66 units (ISO 6508-1) |
| Surface: | polished to a value of Ra <0.05 micron (μm) |
Standard package contents
HFRR test plates - 100 pcs.
HFRR test balls - 100 pcs.
GOST R voluntary certificate (blue form) - copy
Quality passport


Price: 55,000 rubles per set (735 US Dollars approximately) In stock. Find out details by phone +7 (917) 550-46-31, or by email tprom1@bk.ru
Summary of test method
The principle of using the ball-on-plate friction design is that the ball from the kit will be fixed in a holder located in a vertical position, and then pressed against a metal plate, which is pre-positioned horizontally. The ball makes reciprocating movements with adjustable length and stroke frequency. It is important for the ball to be completely immersed into fuel with a certain temperature. Any specifications either the temperature of the fuel or the properties of the ball and plate, are precisely set.
Warranty
Our products are fully compliant with GOST R ISO 12156-1. Each set has 100 balls and plates.
To place an order please call tel.nr. +7 (495) 369-68-10 or send us an application right now
POSSIBILITY OF FREE SENDING OF PROBES
It is possible to send 2 pairs of ball + plate free of charge to your address.
End consumer or you will test them,
And you will make a verdict - whether such friction pairs suit you / him or not.
Specify the possibility of this sending in advance, from our manager by phone +79175504631 Nikitin Anton